| | | |
| --- | --- | --- |
| Dancing with the Stars: Semifinals! | | |
Written by Lauren Cheal
Tuesday, 15 November 2011 20:24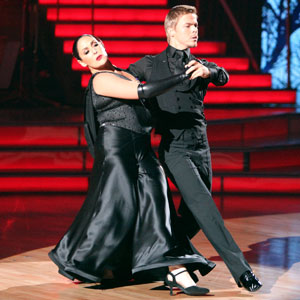 Nancy Grace was finally, finally sent home last week, about three weeks too late. She was the worst. With that, we are down to only four teams left, with J.R. Martinez and Ricki Lake as our frontrunners (and frontrunners in my heart). Hope Solo continues to be a poor dancer paired with a crappy partner. Rob is just unsympathetic, and I don't care much what happens to him. Each team has three dances this week, including an Argentinian tango with lifts allowed.
Hope Solo and Maks: In their first clip package, we learn that Hope has a really bad shoulder that has like 12 pins in it. It is very painful, and we see her getting this huge horse shot of something into it. Gross. She said she was saving that shot for the mother-effing Olympics (!). Hardcore. That clip package did make me like Hope more…props to her for not complaining about her injury.
Paso Doble: Right out of the gate, there is a lot of staging for this number. Hope has a dominatrix vibe going, and Maks looks just plain weird. It takes them quite a while to get into hold, and once they do, it is the same old story with Hope. Her body looks all awkward and not graceful at all. She has a bitchface the whole time, which I think was on purpose. I didn't like it at all. Len liked the attack, but she lost control. Bruno thinks she was unchained, but she lacked artistry. Carrie Ann thinks she nailed the character of the dance, but the hold sucked (really true). Scores: 7,7,7
Argentinian Tango: All of Hope's weaknesses in hold show in this dance, and Maks has tried to cover them up by having her dance with her face in his shoulder for much of the time. It is weird, and not pretty. They have some athletic lifts, but again the lack of grace in her movement make her look like a robot. Len thinks it was better than the paso doble, and he wasn't disappointed. Bruno thought there was rapport in the partnership and she was more controlled. Carrie Ann thinks the transitions into and out of the lifts were awkward, and they didn't look smooth, but overall she was better in this dance. Scores: 8,8,8.
J.R. Martinez and Karina: The story for these two this week is a really brutal fall that they took in rehearsal. In the video of the fall, it looks like Karina took the worst of the fall, but it turns out that J.R. twisted his ankle pretty badly.
Paso Doble: The dance is ok, but not really one of J.R.'s best. He doesn't really have the right posture or something. I can't recall him doing one of these strong, precise dances before, and I think it is clear that he hasn't had much practice at them. His bar is set pretty high now, and that just didn't measure up. I don't think it was due to the injury. There was also something weird going on with Karina's outfit. The Peanut Gallery noticed that it looked like a full corset thing, but it was actually the torso part of a corset and then a separate bra part. It was just weird because you could see her skin in between the two at times. Bruno liked the role play (of course), but his posture wasn't good. Carrie Ann gives him props for attacking the dance with the injury, but his posture was a mess. Len thinks this dance didn't suit him well at all. I could be a for real judge. Scores: 8,7,8
Argentinian Tango: J.R. does much better with this dance then he did with the paso. He is strong, and has a really good frame. The footwork seems to be spot on, and it helps that he followed Hope, who sucked. It didn't blow me away, but it was technically good and the intensity was very good. Bruno liked the charged chemistry and the lifts. Carrie Ann loved their connection, and especially liked the transitions in the lifts. Len thought it had mood and intensity, and he was transported. Scores: 9,9,9
Rob Kardashian and Cheryl
Samba: The samba is such a different dance than the two pasos we have just seen, it is quite jarring. It doesn't help that the set and their costumes look like Carnivale threw up everywhere. It is so bright and brash….not fun to look at. As far as the actual samba goes, I think it was pretty good. He has the good hip action and has a lot of fun with it. Carrie Ann was worried at the start (I was too), but she loved his booty shaking. Len says basically the same thing. Bruno praises his ability to turn a handicap (his big butt) into an asset. Bruno really is an ass. Scores: 10, 9,9 (that 10 from Carrie Ann was a little bit high)
Argentinian Tango: Cheryl has asked Rob to really give it his all for this dance, because it is one of her favourites. I have huge expectations now, because Cheryl is great, and I remember her tango with Gilles Marini. Good times. It starts out extremely quick and sharp, and then gets better and better. There is a building intensity to the routine, and Rob does well as the frame and strength that Cheryl flits around beautifully. There really aren't any fancy lifts in the routine, which is to Cheryl's credit again. The dance is so strong on its own. I don't know that it was quite as good as the Gilles tango, but it was very strong. Carrie Ann thinks that he had good, strong dancing and power. Len thinks Rob is finishing very strong. Bruno thinks it was slick, dark and in control. Scores: 9,9,9.
Ricki Lake and Derek: The story of their rehearsal week is that Ricki has an issue with being lifted up, and doesn't want to crush Derek (who is super strong). The Peanut Gallery didn't get this at all, but as a formerly larger person, I totally get it. I don't care if it is Andre the Giant*, I will never be comfortable being picked up.
*Andre the Giant is actually a bad example for this, because he had crippling back problems from his time as a wrestler, and wasn't even able to pick up the tiny Robin Wright during the filming of The Princess Bride. Fun fact for you all.
Samba: Ricki just has a great ability to pick up any dance style, and I think she has done it again with the samba. She is sharp, but has fun with it and really works the character side of it too. I don't know if it will get her the 10s she is after, but they will be good scores for sure. Standing O from the ballroom! Len loved the dance and has nothing but praise for it. Bruno calls it sizzling hot from beginning to end. Carrie Ann loved that she was able to keep her shoulders down, and it totally improved her overall technique. Scores: 10, 10, 10!
Argentinian Tango: I like this dance a lot. It showcases Ricki's strength in a way that we haven't really seen before. The movements are very sharp, and she sells the character well again. It is smooth, but with a hard edge. Derek choreographed an interesting routine, and it worked. Len thinks the contrast of slow and fast was outstanding, as was the whole dance. Bruno says the mood was spot-on and the dancing was peerless. Carrie Ann thinks her improved core strength has given her dancing a great pop (I agree). Scores: 9,10,10 (since when is Carrie Ann's the lowest score?).
The Cha Cha Cha Relay
In this one, the couples all dance one after the other, and I am just going to give a summary sentence for each. This is a good chance to compare the dancers side-by-side, which is always fun. The scoring for this event is where there is just a 4,6,8 and 10 up for grabs. If you do the best, you get the 10. If you suck, you get a 4. That is hardcore. Ricki is first, and she is good, though not too interesting. I would call it her weakest of the night, but she had a strong night. Hope is next, and she is better than I was expecting, though still very spaghetti-like. J.R. does alright too. Maybe this song just isn't very good or something? All of these cha chas lack energy. Surprisingly, Rob brings the most energy and flair to his section. He just looks like he is having fun with it. My ranking, from best to worst would be Rob, Ricki, J.R., Hope. But I am now kind of biased against Hope, so perhaps I am off.
Judges' Scores:
4th Place: Hope and Maks
3rd Place: J.R. and Karina
2nd Place: Ricki and Derek
1st Place: Rob and Cheryl
I was right! Go me.
More Gonchos
Random Celebrity Sightings: Eliza Dushku is in the audience, and they show her like every 2 minutes. She is apparently dating Rick Fox, a DWTS alum. Other than her, I really don't see anyone else exciting. The Kardashians are there, as always, Carson Kressley can be seen cheering for people in the background, and that is really about it. Hopefully they step things up in this department for the finale next week.


Who won't be making it to that finale? It has to be Hope, doesn't it? She has by far the worst scores, and I don't think people like her. I am a little worried that J.R. is in danger because of his lower scores, but hopefully people will vote for the inspiring veteran (who is a really good dancer) over Hope.
Comments
(1)
Subscribe to this comment's feed
Andre the Giant
Regarding the comment about Andre the Giant, it's true that he did have serious back problems when he was in his 40s and was often in pain during his matches. But he had tremendous natural strength and when he was younger a famous photo was made of him lifting four female wrestlers at the same time. Ken Patera, former wrestler and national weightlifting champion, stated in a Sports Illustrated article on Andre decades ago that he believed Andre could have become a tremendous weightlifter if he had trained for that sport.